Meet the all virtual Hillert Laboratory
Published Oct 05, 2021
Modeling is a rapidly growing field in materials science. It is also an area where the new Hillert Laboratory will play an important role.
The new lab at the Department of Materials Science will make computational modeling tools for materials science more available. It will be a way to showcase the tools used at the department and gather expertise in the field. Levente Vitos, director of Hillert Laboratory, explains why such a platform is needed:
"Modeling tools are used in virtually all research conducted at the department, and many industries are using them as well. We have a variety of tools, both self-developed and from partner institutes, but we still have to collect and systematize them."
The quantum mechanical boost
According to Levente Vitos, modeling makes materials research and development more intelligent. It makes it possible to predict the outcome, and significantly reduces the number of unsuccessful attempts. He himself is an expert in modeling tools and methods based on quantum mechanics.
"My background gives me the opportunity to bring different tools together. Quantum theory has such a high predictive power that modeling based on it can serve other theories, it can be considered as the common denominator of contemporary materials modeling tools".
Levente Vitos says that the most exciting thing happening in the field right now, is the combination of quantum mechanics and more conventional tools. For instance, thermodynamic modeling, which is traditionally built on observations, can today be partly built on quantum mechanics. This can facilitate both low and high temperature research, which can otherwise be difficult in many experimental environments.
"Quantum mechanics can predict atomic-level properties starting merely from the periodic table, without any empirical input. That is why it is interesting for the industry. When we go from higher levels to atoms, it saves money, time and laboratory work", he says.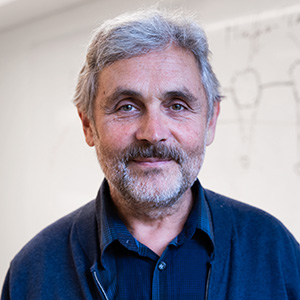 A learning lab
In the next few years, Levente Vitos hopes that Hillert Laboratory will have all its core operations up and running, with an extensive toolbox for materials modeling, industrial partners and various training activities.
"We will offer tutorials, workshops and seminars, so that users can learn more about the tools and understand which ones are most useful for them. A forum for questions about tools and modeling will also be an important part of our activities", says Levente Vitos.
Hillert Laboratory
The lab is named after Mats Hillert, who is professor emeritus at the department and – according to Levente Vitos – like the father of thermodynamic modeling.
"Mats Hillert has worked with modeling throughout his career, and he has contributed to the department's prominent position in this area. Naming the lab after him was a natural choice."
Text and photo: Alexandra von Kern